In this Article
---
Messages XR allows site admins to send messages and notifications in multiple languages via multiple channels. As part of the Messages XR package, you may have the option to send SMS text messages to constituents. In this article, we'll explain how to distribute your message as an SMS text message.
Note: This feature is currently only available for organizations in the US.
Check your data
This feature requires mobile numbers to be populated in the profile data of your constituents.
Consent requirements
Just as bulk emails are governed by regulations such as the CAN-SPAM Act, automated text messages and recorded voice messages are required to comply with the Telephone Consumer Protection Act (TCPA). Per the TCPA, text communication must occur between the hours of 8 a.m. and 9 p.m. For additional details, please refer to Consent requirements for text and voice messages.
Important Announcements
If you are sending an SMS message as an "Important Announcement," you have express consent to do so if their mobile phone number has been provided to you. These messages should be reserved for information that is more immediate in nature (i.e. early release due to snow) or contract based (i.e. registration is open for next school year).
Promotional
Promotional messages require your constituents to opt-in and subscribe their mobile phone number to the list that will be used. A constituent needs to have a portal account in order to opt-in to receive promotional SMS messages. Once logged in, they will access the "Notifications" section from their top portal navigation (hover over their name or profile image). Then, they click "+ Subscription" to see any lists that you have made available to sign up for text messages.
Note: Additional setup is also required to configure the list to be used for SMS messaging.
Composing SMS messages
After you've named your message, go to the Message Details screen to configure your message and select your messaging channels.
Select whether the message is a Promotional message or an Important Announcement, and as you add list(s) or group(s), the total number of users who are subscribed to each channel will appear on the corresponding tab below. You may choose whether to send this message via each channel.
To add an SMS message:
Go to the SMS tab and select the toggle for SMS details.
Type your message (up to 160 characters).
Note: If a text message contains one or more Unicode characters (emojis or accented characters, for example) the character limit is 70 characters, in line with the industry standard for SMS. You may want to use an online character counter! Also, keep in mind that message URLs are included in the character count.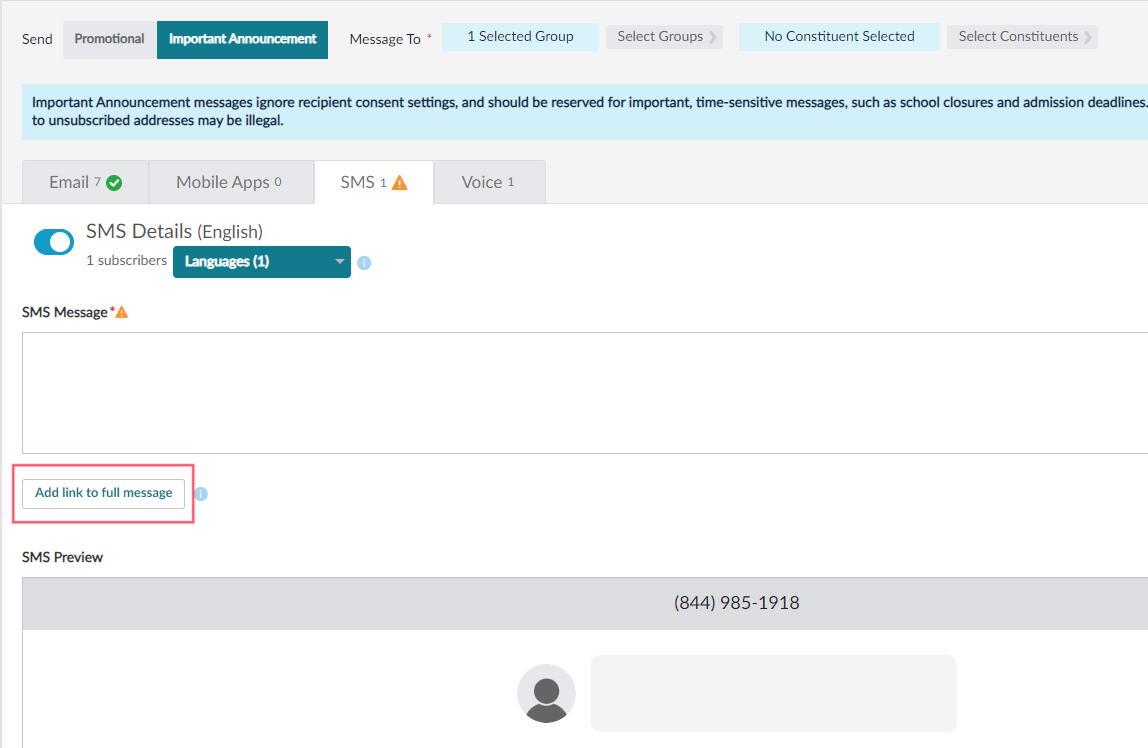 Best practice: It is best practice to send short SMS messages. Longer messages may automatically be sent as multiple "segments," which can cause mobile carriers to mark the message as spam and not deliver it.
Including a link to the full email message
You might be able to convey your entire message in 160 (or 70) characters, but if not, you can also include a link to the email message. Make sure that you have enabled the Email tab and composed a message using a template, then select the "Add link to full message" button.
This adds a "short URL" option, which will automatically link the SMS message to the email archive URL. Schools should not use their own URL shorteners (especially free ones), as most are banned by U.S. carriers and may result in messages being blocked. The characters in the URL will be counted toward the total for the message.
Unsubscribing from SMS messages
At any time, users can reply STOP to SMS, which will unsubscribe them from all SMS messages. To begin receiving messages again, users can reply with the word START.