At its simplest, a workflow can be used to send multiple emails to subscribers on a delayed schedule, but you can also add complexity and customization for each subscriber's experience with branches.
If you add a branch to your workflow, you can decide what to do next based on whether or not the subscriber has opened the previous message, or if they clicked on a link in that message. Use the dropdown menu to select Any link or a specific link that appears in the selected message. 
When adding branches, a delay needs to be added to the branch allowing server processing time to report if a message was opened or a link was clicked. We recommend at least a 2 day delay or a reasonable amount of time for recipients to check their email.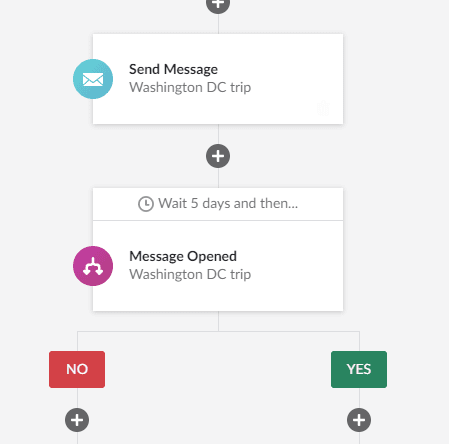 A YES and NO box will appear in your workflow, with two gray + icons so you can add steps for each scenario.
You can use branches to create one track for highly engaged subscribers who open every message as soon as it's sent, and another for those who aren't as eager. Send more emails to the subscribers who clicked on links in your messages, and send fewer to those who haven't been opening the messages at all.