Feeds uses the latest version of the Facebook/Instagram API, so an Instagram Business account is required. Instagram only allows us to import hashtag posts from the last 24 hours. This is a technical limitation resulting from changes with the Instagram API.
To display posts from Instagram based on a hashtag, you must connect an Instagram Business account to Feeds. This step is required by Instagram and its parent company, Facebook. If you do not have an Instagram Business account, you must create one first or switch a personal Instagram account to a business one.
Every Instagram Business account is linked to a corresponding Facebook business page, which you manage via your personal Facebook account. Thus, your personal Facebook account is what you will actually connect to Feeds before you can create Instagram hashtag sources. Posts from your personal Facebook account will not show in Feeds only by connecting this account.
This connection will ultimately be displayed on the "Your Social Connections" page, located at https://feeds.finalsite.com/social-accounts. If you do not have a Facebook account connected here yet, you will see a message that hashtag support is unavailable.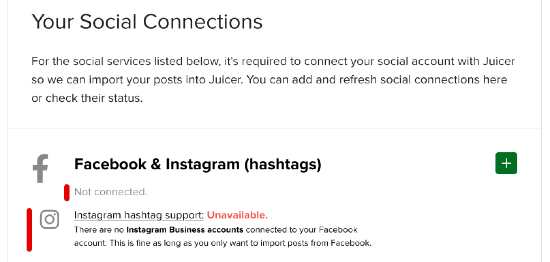 To resolve this, simply click the + icon, and you will be prompted to connect your Facebook account to Juicer, which is a trusted Finalsite partner that helps manage the social media integrations needed to display your social content. Once you have a Facebook connection on this page, you might see a valid connection status, but Instagram hashtag support still unavailable.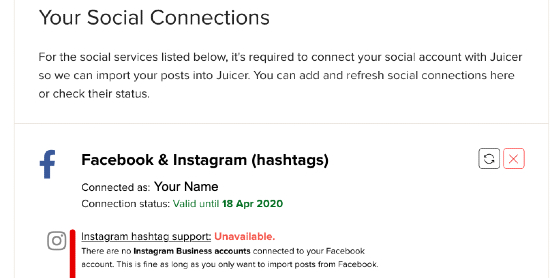 This indicates that your Facebook account is connected properly, but there is no Instagram Business account currently associated with it. As such, Instagram hashtag support is not available. Please double-check that you have followed the necessary steps, then try refreshing your Facebook connection (with the refresh "arrows" icon).
Once you have the necessary validation, you will see that the Instagram hashtag support is "Active."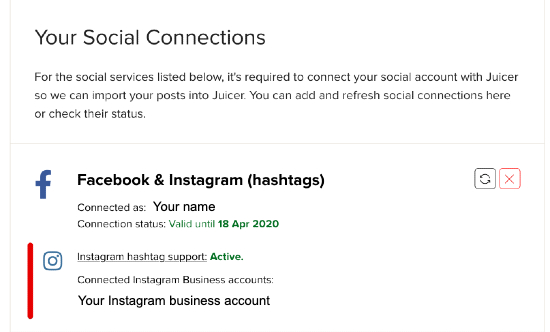 At this point, you can add an Instagram hashtag source into your feed using the "Add social media source" button.
In addition to the above method, you can also select "Add social media source" from your main Feeds dashboard and choose "Instagram Hashtag." Our software will automatically prompt you to establish the needed connection.
Because of new restrictions made by Instagram, it's not possible to display the usernames or profile images of posts containing your chosen hashtag. This information is no longer provided to services like Feeds, as a privacy measure for Instagram users.

Due to limitations placed by the social media platforms, not all historical posts made with a hashtag may pull into outside platforms such as Feeds. Please see our article on Missing hashtag social media posts in Feeds.