Files in Multimedia Manager, especially video files, can take up a large amount of disc space. You can archive your outdated content in order to free up space for new multimedia uploads or other files.
The archiving process is conducted at the folder level.
To archive a folder, navigate to it in Multimedia Manager and click the "Archive Folder" button.

Click "archive" on the Archive Confirmation alert window.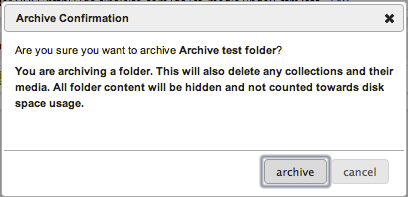 Content in the archived folder will not count toward your site's data usage limit. You will still be able to see archived folders in Multimedia Manager - archived folders appear in italicized gray text when viewed in the channel list.

After a folder has been archived, it will no longer be visible to site users. If you want to archive some but not all of the media files in a particular folder, relocate the files you want to hide to a new folder, then archive the new folder. This will ensure that any links to your existing folder remain intact.