In this Article
---
This feature allows for the self-restoration of posts and boards by any user with Admin level permission to the post module up to 30 days after deletion. Admins with permission to delete may remove individual posts or entire boards of posts while trying to keep their Posts module clean and organized. At times, you may want to restore and reuse those items that were deleted.
This article describes how the restoration tool works and what options are available. Find the Deleted Boards tab in the left navigation of your Posts module to view any of your deleted items.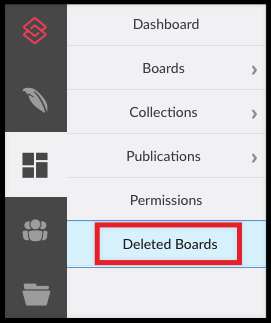 Access deleted posts and boards
Upon deletion, posts and boards are retained for 30 days in the Deleted Boards area before being permanently deleted. Items can be found listed in the tabs Boards and Post in descending order based on the date and time they were deleted.
Boards tab: Here you can locate a list of your deleted boards. When a board is deleted, all posts with it will be removed, as well. Once the 30 day period has passed, the posts belonging to that board will no longer be available.

Posts tab: Displays a list of posts that were deleted either in bulk or individually. Click on each post to view the options in the quick panel.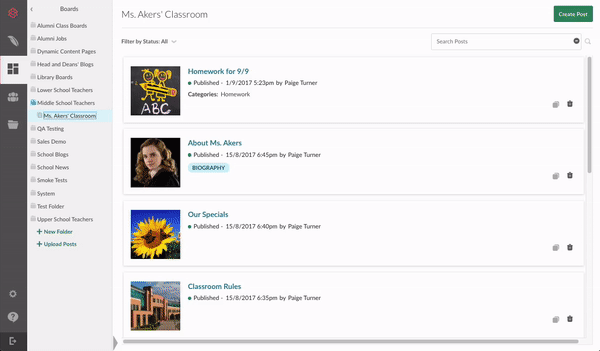 Restore a board
When both a board and its posts are deleted, the board needs to be restored first. Attempting to restore Posts to a nonexistent board returns a message of "Posts can't be restored, yet!" Individual posts without existing boards will have a padlock to the left of the title as a warning.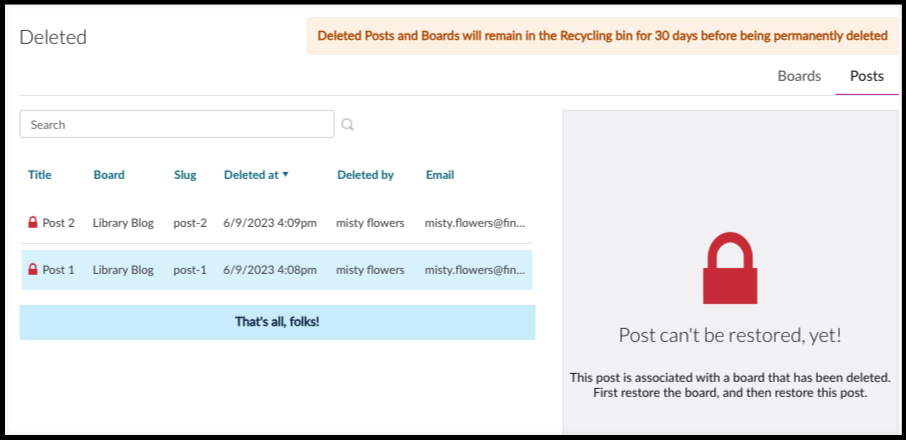 To get started, select a board in the Boards tab of the Deleted Boards section in Posts. You will be given the following options from the Restore quick panel on the right:
Restore all posts: All posts that were deleted with the board will be restored back.
Don't restore posts: Only the individual board without the posts will return. Restoring a board will also bring back all of its associated posts existing at the time of deletion.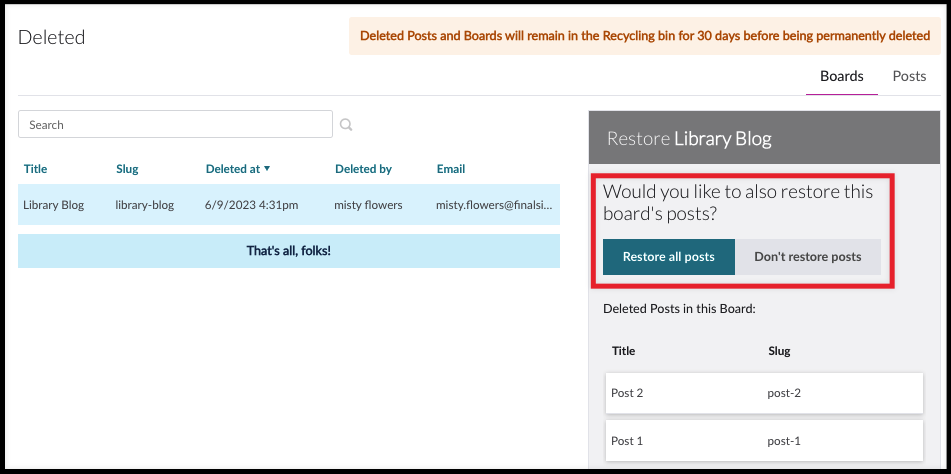 After a board is restored
The board returns to the original folder in which it was found when the deletion occurred. Here are items that will or will NOT be included in the board restoration process process: 
Items that will be restored:

Resource folder and its resources

Items that will NOT be restored:

subscriptions
push notifications set for a particular board
board level permissions granted to admin users
Note: Groups or individual constituents who were granted permissions to a specific board that has been deleted may no longer exist upon restoration of the board and will need to have permissions re-granted.
Restore a post
A post can be restored as long as the board where it existed originally exists in the Posts module. Click on the post to open the Restore quick panel on the right. If a padlock appears next to a post, it means that there is no existing board to restore a post to.

After a post is restored 
Here are the items that will or will NOT be included in the post restoration process:
Items that will be restored:

post Title, Body, Summary, and URL (unless a duplicate)

Items that will NOT be restored:

post thumbnails
resending of alerts 
mobile app notifications
Note: Posts that were previously shared using Social Media Connections will not be shared a second time to the attached social media, but will simply restore to the Posts module.